Rogue Outcast 3 Spot
Kompaktni IP65 LED moving head
IP Rating: IP65
Output: 57,280 lux @ 5m (narrow)
Weight: 63.3 lb (28.7 kg)
Zoom: 4.5° – 38.1°
Source: 300W LED
Effects Wheelhouse: 2x Color Wheels, 2x Gobo Wheels (static + rotating), Iris, Prism, Frost
---
Rogue Outcast 3 Spot is a compact IP65 LED moving head that combines the latest lightweight alloy technology with a wheelhouse that delivers the color possibilities of dual color wheels, the dynamic morphing effects of dual gobo wheels, the beauty of smooth 16-bit fades, and a wide zoom range that adds flexibility to achieving desired coverage. Iris, prism and frost round out its effects, and its durable housing not only weathers outdoor elements but also brings advantages to indoor installations with a low-maintenance impervious design that withstands particulates such as fog and haze.
AT A GLANCE
IP 65 rated LED Spot with (2) color wheels, a static and rotating gobo wheel, motorized zoom, Iris, 5 facet prism, encased in a lightweight aluminum and magnesium alloy
Zoom range of 4.9° to 38.7° to easily cover stages and surfaces from a distance
Perfect gobo morphing between gobo wheels
Two color wheels with 7 colors, split color ability, and continuous variable speed scrolling
Two gobo wheels: one fixed scrolling wheel and one rotating, interchangeable, scrolling wheel
Iris, 5-facet prism, and frost for beam control
Beautiful 16-bit LED dimming for ultimate fade control
IP65 rated power input/output connections for power linking
5-pin DMX input/output connections
RDM enabled for remote addressing and trouble shooting
Selectable PWM settings to maintain flicker free operation on camera
Simple and complex DMX channel profiles for programming versatility
USB-C port for uploading software
SPECIFICATIONS
OPTICAL
Light Source: 1 LED (CW) 300 W, (5 A), 7044 K, 50,000 hours life expectancy.
Color Temperature (at full): 7044 K
Front lens diameter: 119 mm
CRI: 70
Beam Angle: 4.9° to 33.7°
Field Angle: 5.5° to 38°
Cutoff Angle: 5.6° to 38.7°
Zoom Range: 4.9° to 38.7°
Lumens – Source: 20,000
Lumens – Output: 14,989
Illuminance (4.9°): 56,916lux @ 5 m
Illuminance (38.7°) 7,260 lux @ 5 m
Selectable PWM: 600 Hz, 1,200 Hz, 2,000 Hz, 4,000 Hz, 6,000 Hz, 15,000 Hz
DYNAMIC EFFECTS
Pan and Tilt: 540°/270°
Pan and Tilt Ranges: 180°, 360°, 540° pan/90°, 180°, 270° tilt
Colors (1): 7 + white, split colors, continuous scroll at variable speeds
Colors (2): 7 + white, split colors, continuous scroll at variable speeds
Gobos (1): 7 + open (7 metal), rotating, interchangeable, indexing, slot-n-lock, continuous scroll at variable speeds
Gobos (2): 8 + open (8 metal), continuous scroll at variable speeds
Gobo Size: Gobo Wheel 1 (rotating); size: 25.5 mm (outside), 14.8 mm (image), 0.6 mm (max. thickness)
Gobo Size: Gobo Wheel 2 (static): size: 24 mm (outside), 16 mm (image), 0.6 mm (max. thickness)
Dimmer: Electronic
Shutter/Strobe: Electronic
Zoom: Motorized
Focus: Motorized
Frost: Motorized
Iris: Motorized
Prism: 5 Facets, motorized, rotating
Strobe Rate: 0 to 20 Hz
Move in Black: Yes
CONSTRUCTION / PHYSICAL
Dimensions: 14.41 x 9.61 x 25.16 in (366 x 244 x 639 mm)
Weight: 51 lb (23.2 kg)
Exterior Color: Black
Housing Material: High-impact flame-retardant polymer
CONNECTIONS
Power Connection: Edison (local) plug to Seetronic Powerkon IP65
Power Input: Seetronic Powerkon IP65
Power Output: Seetronic Powerkon IP65
Data Connectors: 5-pin XLR
Cable Length (power): 5 ft (1.5 m)
CONTROL
Control Protocol: DMX, RDM
DMX Channels: 20 or 25
Modes/Personalities: 2 personalities (20, 25)
ELECTRICAL
Input Voltage: 100 to 240 VAC, 50/60 Hz (auto-ranging)
Power Linking: 3 units @ 120 V; 5 units @ 208 V; 6 units @ 230 V
Power and Current: 506 W, 4.24 A @ 120 V, 60 Hz
Power and Current: 493 W, 2.43 A @ 208 V, 60 Hz
Power and Current: 494 W, 2.19 A @ 230 V, 50 Hz
CERTIFICATIONS / QUALIFICATIONS
CE, MET, UKCA
IP Rating: IP65, temporary outdoor/ wet, with pressure equalizing M12 GORE valve
Temperature (Ambient): -14 °F to 113 °F (-10 °C to 45 °C)
Maximum Exterior Surface Temperature (Tc): 80° C / 176° F
Maximum Ambient Temperature (ta): 45° C / 113° F
WHAT'S INCLUDED
Rogue Outcast 3 Spot
Seetronic Powerkon IP65 power cord
(2) Omega brackets with mounting hardware
OPTIONAL ACCESSORIES
Clamps
IP65 5 pin DMX Cables
IP65 PowerKon Extension cables
Flight Case
DOWNLOADS
Rogue Outcast 3 Spot - User Manual
Rogue Outcast 3 Spot - Quick Reference Guide
Download ChamSys Personalities File
RELATED PRODUCTS
NEW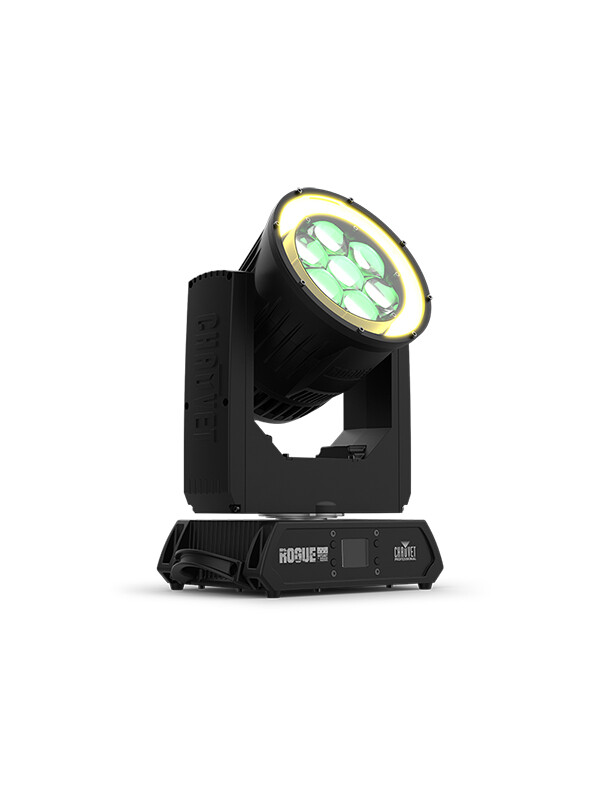 NEW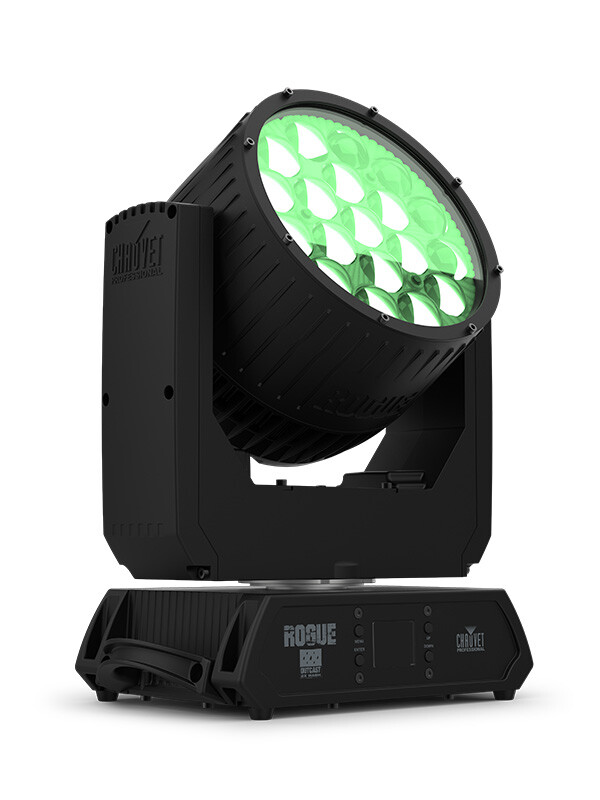 NEW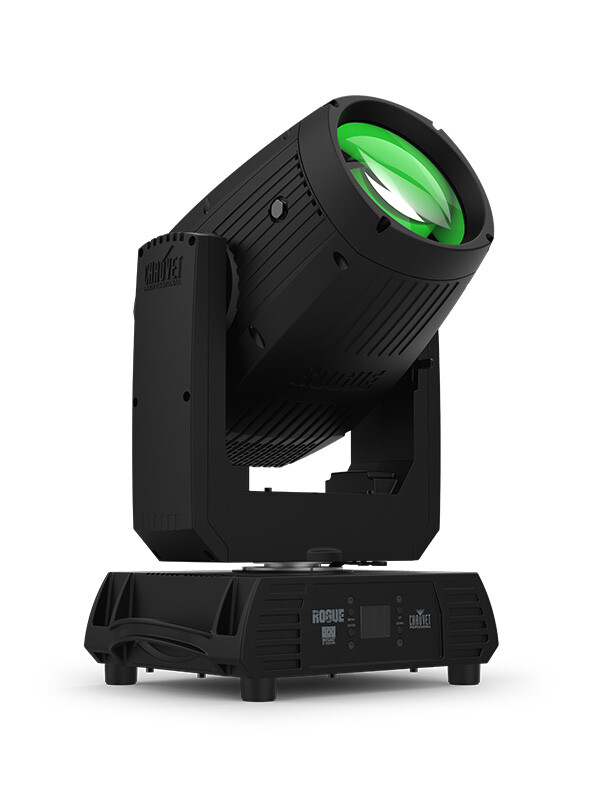 NEW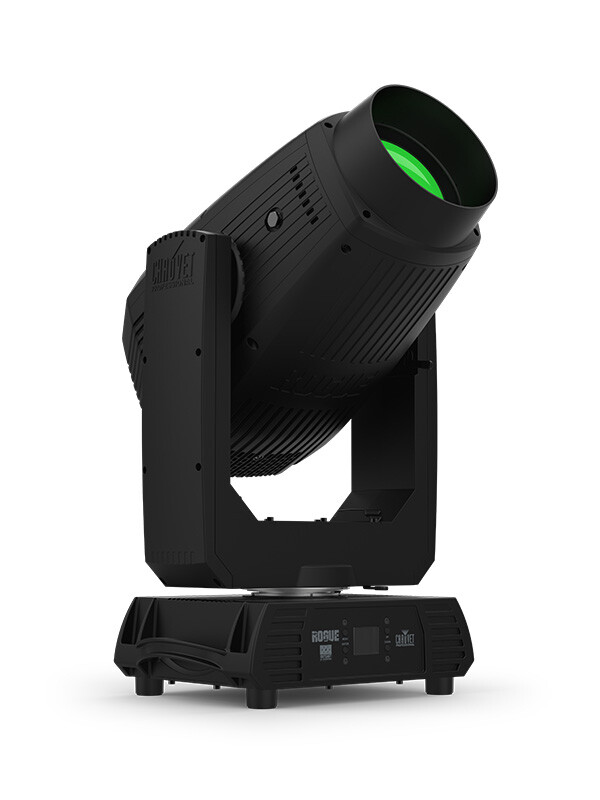 Audion d.o.o. je ovlašteni zastupnik za brand Chauvet DJ i Chauvet Professional za Hrvatsku. Za sva pitanja obratite nam se putem kontakt obrasca na linku.
Kontaktirajte nas
Za preuzimanje Chauvet Professional uputstva za uporabu i raznih kataloga kliknite ovdje!