Rogue Outcast 2X Wash
Lagani IP65 wash
IP Rating: IP65
Output: 8,713 lux @ 5m (narrow)
Weight: 10.6 kg
Zoom: 8° – 66.1°
Source: 19x25W RGBW LED
Effects Wheelhouse: 5 pixel-mappable zones, fast zoom from beam to wash
---
Rogue Outcast 2X Wash is a lightweight IP65 wash that goes wide and hangs anywhere, with a wide zoom range of 8° to 66°, wide 2800 to 10000 K color temp range, wide selection of simple to complex DMX personalities, and a durable alloy housing that suits this versatile workhorse to the widest range of both indoor and outdoor applications, including on-camera use with its user selectable calibrated white. 19 bright 25W RGBW quad-LEDs occupy 5 pixel-mappable zones and produce excellent color blending and fades with 16-bit master and individual dimming.
AT A GLANCE
Fully featured IP65 rated RGBW LED yoke wash fixture
Durable and lightweight aluminum/magnesium alloy body
Smooth fades with 16-bit individual color and master dimming
8° to 66° zoom
19 RGBW LEDs, 25W each
5-pin DMX input/output connections
5 zones of LED control for pixel mapping control
Fast, smooth pan and tilt movement
RDM enabled for remote addressing and trouble shooting
Selectable PWM options for camera operation
User selectable calibrated white, 7500K default calibration
6 distinct dimming modes for advanced control
Easy to read OLED display with simple, effective menu options
Simple and complex DMX channel profiles for programming versatility
USB-C port for uploading software
SPECIFICATIONS
OPTICAL
Light Source: 19 LEDs (quad-color RGBW) 25 W, (1.5 A), 50,000 hours life expectancy
Color Temperature (range): 2800 to 10000 K
Beam Angle: 8° to 36.1°
Field Angle: 11.8° to 53°
Cutoff Range: 17.5° to 66.1°
Zoom Range: 8° to 66.1°
Lumens – Source: n/a
Lumens – Output: 6,258
Illuminance (11.8°): 8,713 lux @ 5 m
Illuminance (53°): 694 lux @ 5 m
Selectable PWM: 600Hz, 1,200 Hz, 2,000 Hz, 4,000 Hz, 6,000 Hz, 15,000 Hz
DYNAMIC EFFECTS
Pan and Tilt: 540°/270°
Pan and Tilt Ranges: 180°, 360°, 540° pan/90°, 180°, 270° tilt
Dimmer: Electronic
Shutter/Strobe: Electronic
Zoom: Motorized
Strobe Rate: 0 to 20 Hz
Standalone Color Mixing: Yes
Color Temperature Presets: Yes
Dim Curves: 6
Built-in Automated Programs: Yes
Customizable Programs: No
Recall Custom Programs: No
CONSTRUCTION / PHYSICAL
Dimensions: 11.92x8.58x14.1" (303x218x361mm)
Weight: 23.4 lb (10.6 kg)
Exterior Color: Black
Housing Material: Aluminum/magnesium alloy, High-impact flame-retardant polymer
CONNECTIONS
Power Connection: Bare ended to Seetronic IP65 PowerKon
Power Input: Seetronic IP65 PowerKon
Power Output: Seetronic IP65 PowerKon
Data Connectors: 5-pin XLR
Cable Length (power): 5 ft (1.5 m)
CONTROL
Control Protocol: DMX, RDM
DMX Channels: 15, 17, 22, 33, 54, or 56
Modes/Personalities: 8 personalities (15CH, 17CH, 22CH, 33CH, 33CH MS, 54CH, 54CH MS or 56CH)
ELECTRICAL
Input Voltage: 100 to 240 VAC, 50/60 Hz (auto-ranging)
Power Linking: 5 units @ 120 V; 9 units @ 208 V; 10 units @ 230 V
Power and Current: 291 W, 2.47 A @ 120 V, 60 Hz
Power and Current: 284 W, 1.41 A @ 208 V, 60 Hz
Power and Current: 282 W, 1.28 A @ 230 V, 50 Hz
CERTIFICATIONS / QUALIFICATIONS
CE, MET, FCC, UKCA
IP Rating: IP65 (temporary wet location)
WHAT'S INCLUDED
Rogue Outcast R2X Wash IP
Seetronic® powerCON® power cord
OPTIONAL ACCESSORIES
Professional Clamps: CTC-50HC, CTC-50HCN
Safety Cable: SC-07
Seetronic IP65 PowerKon cables
DMX Cables
Flight Case:CP6CASER2W
DOWNLOADS
Rogue Outcast 2X Wash - Quick Reference Guide
Rogue Outcast 2X Wash User Manual
Rogue Outcast 2X Wash - 2D CAD File
Rogue Outcast 2X Wash - 3D CAD File
Rogue Outcast 2X Wash - Photometric File
Download ChamSys Personalities File
RELATED PRODUCTS
NEW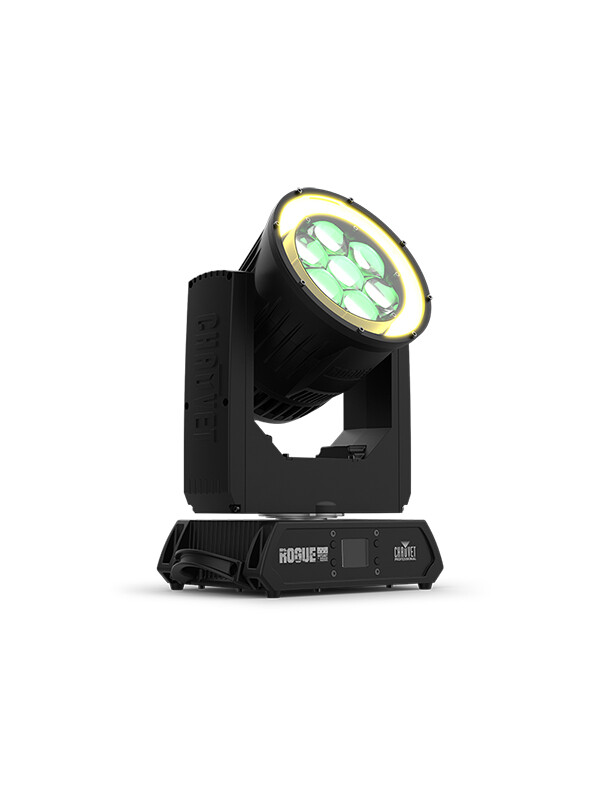 Audion d.o.o. je ovlašteni zastupnik za brand Chauvet DJ i Chauvet Professional za Hrvatsku. Za sva pitanja obratite nam se putem kontakt obrasca na linku.
Kontaktirajte nas
Za preuzimanje Chauvet Professional uputstva za uporabu i raznih kataloga kliknite ovdje!