Vrtoglavi STRIKE P38 je kompaktan blinder i strobe uređaj za vanjsku upotrebu sa 90 W toplim bijelim LED izvorom. Imitacijom jantarno žute boje "zagrijava" temperaturu boje svjetlosti čime uređaj uspijeva savršeno oponašati svjetlosne izvore sa žarnom niti. Ventilator uređaja procijenjen je spremnim za vanjsku upotrebu (IP-rated) te uređaj održava dovoljno hladnim za "wash" primjene. Kada želite veću fleksibilnost kontrole odaberite prilagodljivu PWM modulaciju i RDM protokol.
AT A GLANCE
Intense single pod blinder/strobe rated IP65 for all-weather use

Emulated "red shift" to mimic incandescent fixtures perfectly.

16-bit dimming control for smooth, perfect fades

Strobe functionality for high-impact effects on-the-fly

Easy to use OLED display

Adjustable Pulse Width Modulation (PWM)

RDM (Remote Device Management) for added flexibility
SPECIFICATIONS
OPTICAL
Light Source: 1 LED (WW) 90 W, (1.19 A), 2688 K, 50,000 hours life expectancy.
Light Source: 8 LEDs (Amber) 5 W, (0.07 A), 50,000 hours life expectancy.
Color Temperature (at full): 2754 K
Color Temperature (at 10%): 1899 K
CRI: 92
Beam Angle: 27°
Field Angle: 51°
Lumens: 2,186
Illuminance: 325 lux @ 5 m
Selectable PWM: 600 Hz, 1,200 Hz, 2,000 Hz, 4,000 Hz, 25,000 Hz
DYNAMIC EFFECTS
Dimmer: Electronic
Strobe Rate: 0 to 29 Hz
Dim Modes: 4
Built-in Automated Programs: Yes
CONSTRUCTION / PHYSICAL
Dimensions: 11.93 x 10.27 x 7.25 in (303 x 261 x 184 mm)
Weight: 8.4 lb (3.8 kg)
Exterior Color: Black
Housing Material: Aluminum die-cast
Accessory Holder/Gel Frame Size: 6.25 in (159 mm)
CONNECTIONS
Power Connection: Edison (Local) plug to Seetronic Powerkon IP65
Power Input: Seetronic Powerkon IP65
Power Output: Seetronic Powerkon IP65
Data Connectors: 5-pin IP65 XLR
Cable Length (power): 5 ft (1.5 m)
CONTROL
Protocol(s): DMX, RDM
DMX Channels: 3, 4, 5 or 6
Modes/Personalities: 4 personalities (3ch, 4ch, 5ch, 6ch)
ELECTRICAL
Input Voltage: 100 to 240 VAC, 50/60 Hz (auto-ranging)
Power Linking: 30 units @ 120 V; 50 units @ 208 V; 55 units @ 230 V
Power and Current: 54 W, .449 A @ 120 V, 60 Hz
Power and Current: 56 W, .267 A @ 208 V, 60 Hz
Power and Current: 58 W, .245 A @ 230 V, 50 Hz
CERTIFICATIONS / QUALIFICATIONS
CE, MET
IP Rating: IP65, temporary outdoor/wet use
Temperature (Ambient): -4 °F to 113 °F (-20 °C to 45 °C)
WHAT'S INCLUDED
STRIKE P38
Seetronic Powerkon IP65 power cord
Gel frame (6.25 in/158.75 mm accessories)
OPTIONAL ACCESSORIES
RELATED PRODUCTS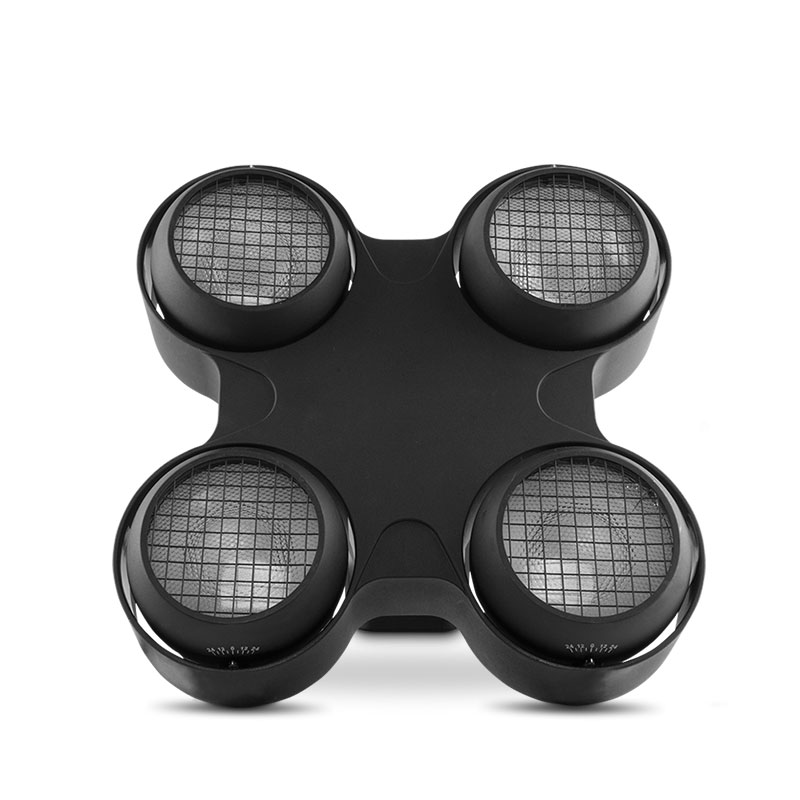 Za preuzimanje Chauvet Professional uputstva za uporabu i raznih kataloga kliknite ovdje!